Hand Veins
Treatment Options
Hand and Arm Vein Therapy
Reticular veins on the hand and arm (prominent veins) are quite common, occurring in over 40% of the population. Hand and arm veins become more prominent with aging, due to loss of volume (subcutaneous fat) in the hands, decreased tissue elasticity, decreased muscle mass, and due to progressive sun damage over time. Hand veins typically occur on the dorsum of the hand.
The vast majority of people do not have any symptoms secondary to hand and arm veins. A small group of patients may complain of itching or pain over the veins. Some people find hand and arm veins unsightly and seek treatment to improve the appearance by eliminating the visible hand and arm veins.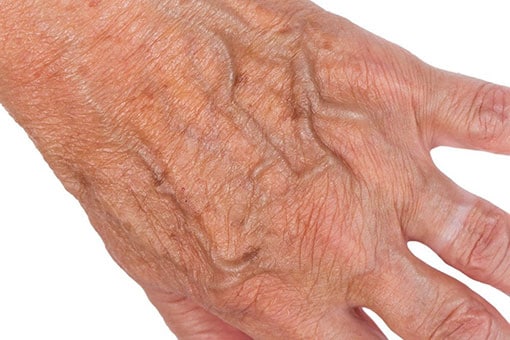 Hand and Arm Vein Treatment Protocol
1. Before each treatment you will undergo a hand vein examination.
2. The area(s) to be treated, will be cleaned with a alcohol swab. The veins to be treated, will be cannulated with a very fine sterile needle and the sclerosant (sotadecrol) solution will be injected
3. If your hand and arm veins have not resolved by 10 weeks, you will require further treatment. You may require 1 to 4 treatments for a complete response.
What Should I Do After My Sclerotherapy Treatment?
1. You can resume normal activities today.
2. Keep your bandages on for 6 hours. No water contact for 6 hours after your treatment. No wearing jewelry on your hands or wrist for 72 hours after treatment.
3. You can have a quick shower in the morning for 5-10 minutes but no prolonged hand washing, hot baths, hot tub and sauna for 1 week.
4.

Bruising, pigmentation, local swelling, lumpiness and some tenderness are normal at sites of treatment.

A. If there is swelling, wrap ice in a cloth and apply to the affected area.
B. Bruising at a site of sclerotherapy may last from 2 weeks to a few months in some patients.
C. To

reduce bruising/pigmentation and speed up healing

, please take Arnica ™ 30 CH five tablets three times daily for 10 days after treatment and apply Arnica Gel.
D. Please call the office or make a follow-up appointment if you have any questions or concerns after a treatment.

5. Avoid sun exposure for six weeks after treatment to reduce healing time. Apply SPF 40, UVA/UVB protection to sites of treatment or bruising for at least 6 weeks following a treatment (or until bruising and pigmentation resolves) in the event of any sun exposure.
5. If there is swelling, wrap ice in a cloth and apply to the affected area.
7. You will not notice an immediate improvement. Initially, the treated hand veins will become red, tender and develop hard bumps. The redness and tenderness will resolve in 2 to 4 weeks. Healing of the veins usually occurs over a 4-8 week period and in some cases may take up to 10 weeks. It may require 1 to 4 treatments for complete resolution.
What Should I Do Before My Sclerotherapy Treatment?
1. Do not apply cream to your hands or arm on the day of your appointment. Eat a snack one hour prior to your treatment. Do not take aspirin or blood thinners 3 days prior to procedure.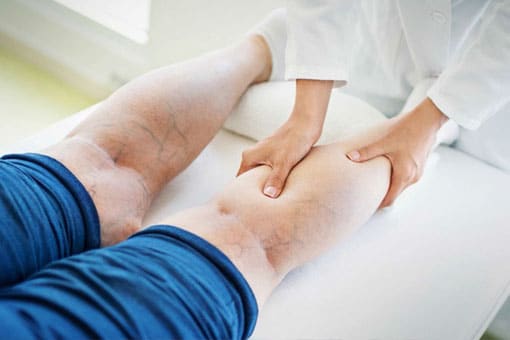 Book A Free  (OHIP Covered) Vein Consultation Today!
If you have OHIP coverage, you qualify for a FREE Venous consultation.  A private consultation is the best way for our medical team to evaluate your  varicose vein, spider vein, hand vein or facial vein condition. It also provides you with the opportunity to get your questions answered and address any other concerns you may have.  Book your consultation today!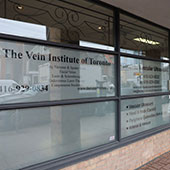 HOURS OF OPERATION
---
Monday: 9:00 am - 7:00 pm
Tuesday: 9:30 am - 4:30 pm
Wednesday: 9:00 am - 5:00 pm
Thursday: 7:00 am - 4:00 pm
Friday: 9:30 am - 3:00 pm
Saturday: Schedule varies
Sunday: Closed