Varithena™ Treatment For Varicose Veins
Varithena™ (polidocanol injectable foam) is a modern procedure used for the treatment of problems with the great saphenous vein and other large varicose veins above and below the knee. It is only for use in adults with significant venous reflux that was diagnosed by duplex ultrasound.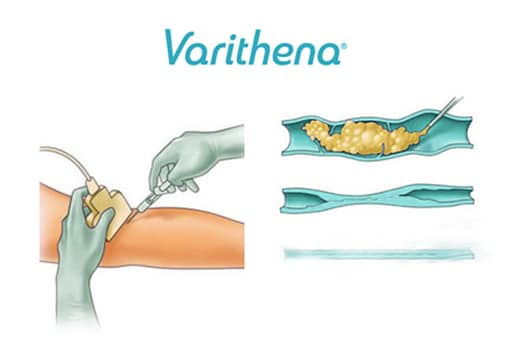 Vein Disorders Treated
With Varithena®
Varithena® treats a wide range of varicose veins in the GSV system, including:
Tortuous (twisted) veins.
Veins above and below the knee.
Veins with small, medium, and large diameters.
Veins previously treated with other methods.
Varithena® Vein Treatment Benefits
No incisions.
No sedation.
No general anesthesia.
Patients may resume some activities on the same day as treatment.
No incisions.
No sedation.
No general anesthesia.
Patients may resume some activities on the same day as treatment.
At the Vein Institute Of Toronto, Dr. Sanjoy Kundu, may recommend Varithena™ (polidocanol injectable foam) if you have varicose veins that are ideal candidates for this treatment. Varicose veins are enlarged, bulging veins usually found in the legs. They can cause uncomfortable symptoms such as swelling and achiness. Untreated varicose veins tend to get worse over time and can lead to serious problems that might require hospitalization.
How Does Varithena™
Treatment Work?
Treatment with Varithena™ is a nonsurgical procedure (no incision is required). Varithena™ is a uniform, low nitrogen, microfoam dispensed from a proprietary canister device. Dr. Sanjoy Kundu injects a small amount of the foam into the malfunctioning vein of a patient through a catheter or a needle. It displaces the blood from the vein to reach and treat the vein wall; the diseased vein should then collapse and blood flow is diverted to healthy veins nearby.
The amount of Varithena™ injected is carefully controlled by Dr. Kundu using ultrasound to see that the foam has filled the veins being treated. When the veins are filled, the treatment is complete (this will depend on the size and extent of your varicose veins). You may require several injections during one treatment session, and may require several treatment sessions to completely treat all veins. Each treatment session will be separated from the next by at least 5 days.
Over several months the vein is slowly resorbed by the body and eventually turns into a thin string of scar tissue. In clinical trials, Varithena™ reduced patients' varicose vein symptoms including heaviness, achiness, swelling, throbbing, and itching (HASTI™ symptoms). Varithena™ also improved vein appearance in assessments by both patients and doctors.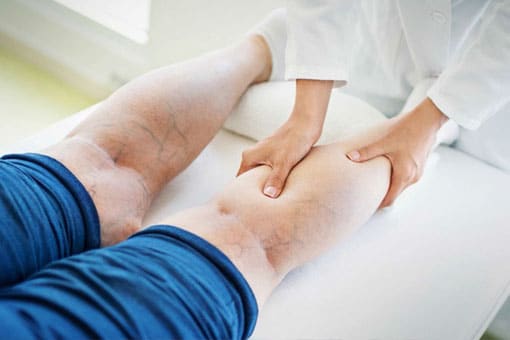 Book A Free  (OHIP Covered) Vein Consultation Today!
If you have OHIP coverage, you qualify for a FREE Venous consultation.  A private consultation is the best way for our medical team to evaluate your  varicose vein, spider vein, hand vein or facial vein condition. It also provides you with the opportunity to get your questions answered and address any other concerns you may have.  Book your consultation today!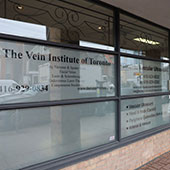 HOURS OF OPERATION
---
Monday: 9:00 am - 7:00 pm
Tuesday: 9:30 am - 4:30 pm
Wednesday: 9:00 am - 5:00 pm
Thursday: 7:00 am - 4:00 pm
Friday: 9:30 am - 3:00 pm
Saturday: Schedule varies
Sunday: Closed